Visited: February 2018
When I arrived in Amsterdam, it felt like NYC, which made sense since NYC was a Dutch settlement. Amsterdam is a very walkable and bike-friendly city. There is also a lot of different types of food that you can eat. We spent two days in Amsterdam and took a day trip to Haarlem (see my Harrlem post here).
We started our day at Albert Cuyp Market, the largest outdoors market place in Netherlands. You can find snacks, fresh fruits and meat, and a meal there. We got a warm, freshly made stroopwafel at one of the stalls before going to The Butcher, a restaurant located in the Albert Cuyp Market area. It is a great place to go for any burger lover. Due to its increased popularity, it has expanded to other locations in Amsterdam as well as Berlin and Ibiza.
Within walking distance are the Van Gogh museum, Rijksmuseum (has a collection from Middle Age to the present), and Stedelijk Museum (for its modern arts collection). We decided to go to the Van Gough museum where it has the largest collection of his artwork. There was a short wait to get tickets and enter the museum.
Outside of the museum is also the famous iamamsterdam sign (and a lot of tourists trying to take pictures with it). This is the one right outside the airport.
Vondelpark is a few minutes walking from the museum and is a great place to walk or bike around, lay on the grass, and people watch (when the weather is warmer). It reminded me of Central Park with the amount of green it has.
We made our way to Foodhallen, an international food market that is great for people who want to sample a variety of food such as Chinese, Vietnamese, Japanese, and Spanish.
Day 2
In the morning, we went to The Happy Pig Pancake Shop to try their pancakes. What is unique about their pancakes is that they are rolled up and filled with different toppings like strawberry, nutella, and banana. It is a cozy spot but it gets busy quickly especially on a Sunday when everyone is also in a mood for pancakes for brunch.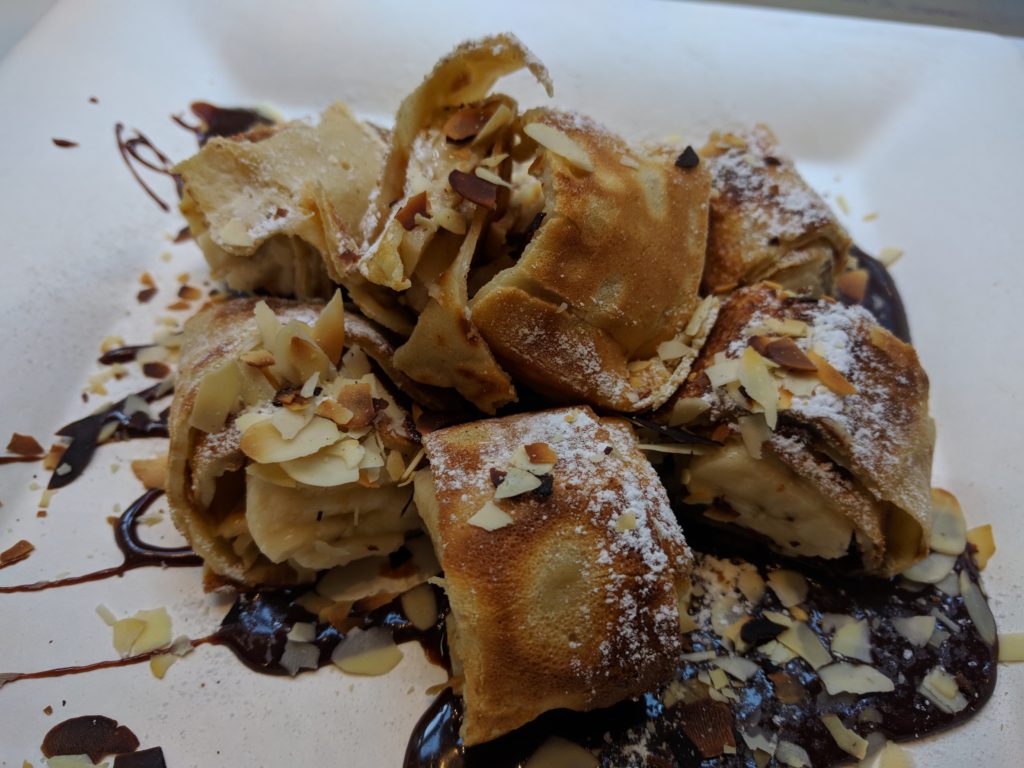 We then went to Winkel43 for their apple pie. There was a short line when we got there but the line moves quickly. There is seating when you get inside but it is first come, first served.  I would highly recommend going to get a slice of the apple pie!
We went to Brewery 't IJ to try their brewery tour. The sign up was unfortunately full by the time we arrived. They only have one guided tour every Friday, Saturday and Sunday in English at 3.30 pm and a guided tour in Dutch at 4 pm. We decided to try a few beers and snacks before heading back to the city centre.
On our way back, we made a few stops to get a view of the city centre.
Here is the view from the NEMO Science Museum. There is a cafe and steps that you can sit on to eat outside and enjoy the view.
Here is the view from the Public Library of Amsterdam.
Here is the view from the Hilton SkyLounge.